Customer reviews
* "Great dealing with Christina and getting some gorgeous Christmas gifts which are unique and special. Thanks for the awesome service. "
Deirde Agathocleos Wills
* "Such a stunning, stylish product. Love my key rings and will buy more. Great, friendly service. "
Thank you Samantha Alexandra Hopcroft
* "Most Gorgeous Hand made gifts!!! The Best in South Africa!!! Do yourself a favour and order!! "
Fotini Tyrannis Apostopoulou
* "Most stunning key rings!! Ordered 8 and were delivered within 4days to my door. Beautifully presented and great quality. "
Tiziana Josi Le Roux
* "Quick delivery! products are lovely Definitely recommend!"
Lisa Conradie
* "Special gifts with a greek touch. "
Irene Lambrou
* "Always great service, and such beautiful unique products made with love! "
Melissa Charalampous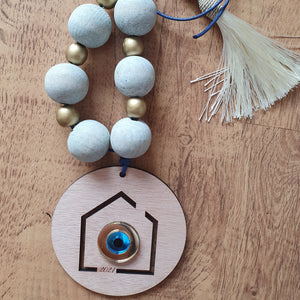 House wall hanging with natural beads